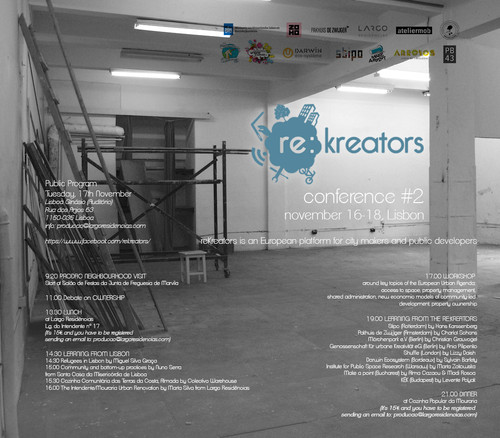 [PT] 
SOBRE OS RE:KREATORS
https://citiesintransition.eu/transition/rekreators

re:Kreaters é uma rede aberta de organizações e indivíduos espalhados pela Europa, que recriam espaços públicos urbanos vazios, abandonados, sub desenvolvidos ou mal aproveitados. 
A rede re:Kreaters organiza o seu 2º encontro internacional em Lisboa nos dias 16 a 18 de Novembro, em parceria com o ateliermob e Largo Residências.
O encontro da rede incluí uma programa público, 3ª feira 17 de Novembro das 14:30 às 20:30. 
O programa público apresenta métodos e abordagens inovadoras europeias:  Lisboa, Roterdão, Amsterdão, Bordeaux, Londres, Berlim, Varsóvia, Bucareste e Budapeste.
PROGRAMA PÚBLICO
_______
9.20 VISITA AO BAIRRO PRODAC
Ponto encontro: Salão de Festas da Junta de Freguesia de Marvila

11.00 Debate sobre PROPRIEDADE
_______
13.30 ALMOÇO no Largo Residências
Lg. do Intendente nº 17
(15€ reservas para o email: producao@largoresidencias.com)
_______
LISBOA GINÁSIO
Lisboa Ginásio Auditório - Rua dos Anjos 63 1150-035 LISBOA

14.30 APRENDENDO COM LISBOA
14.30 "Refugiados em Lisboa" com Miguel Silva Graça (Câmara Municipal de Lisboa)
15.00 Comunidade e práticas de "bottom-up"  com Nuno Serra (Santa Casa da Misericórdia de Lisboa)
15.30 Cozinha Comunitária das Terras da Costa, Almada com Colectivo Warehouse
16.00 A Renovação do Intendente / Mouraria com Marta Silva  (Largo Residências)

17.00 WORKSHOP  em torno dos tópicos chave da agenda europeia sobre urbanismo: acesso ao espaço; gestão de propriedade, co-administração, novos modelos económicos de desenvolvimento comunitário e direito à propriedade.

19.00 APRENDENDO COM OS RE:KREATORS
Stipo (Roterdão) com Hans Karssenberg
Pakhuis de Zwijger (Amesterdão) com Charlot Schans
Mörchenpark e.V (Berlim) com Christian Grauvogel
Genossenschaft für urbane Kreativität eG (Berlim) com Ania Pilipenko
Shuffle (Londres) com Lizzy Daish
Darwin Ecosystem (Bordéus) by Sylvain Barfety
Institute for Public Space Research (Varsóvia) com Marta Zakowska
Make a Point (Bucareste) com Alma Cazacu & Madi Rosca
KÉK (Budapeste) com Levente Polyak
_______
21.00 JANTAR na Cozinha Popular da Mouraria
(15€ reservas para o email: producao@largoresidencias.com)
_______​
Partilhe aqui o evento.
Mais informações: producao@largoresidencias.com



[ENG] 
re:Kreators is an open source network of organizations and individuals across Europe, re-creating public areas in cities that are not performing well, are abandoned or undeveloped and vacant. The re:Kreators network organizes its 2nd international meeting in Lisbon, on November 16-18. The network meeting includes a public program, on November 17, Tuesday afternoon and evening between 14.30-20.30. The public event presents innovative practices from across Europe: Lisbon, Rotterdam, Amsterdam, Bordeaux, London, Berlin, Warsaw, Bucharest, Budapest. 
PUBLIC PROGRAM
_______
9.20 PRODAC NEIGHBOURHOOD VISIT
Start at Salão de Festas da Junta de Freguesia de Marvila
11.00 Debate on OWNERSHIP
_______
13.30 LUNCH at Largo Residências
Lg. do Intendente nº 17
(It's 15€ and you have to be registered sending an email to: producao@largoresidencias.com)
_______
Lisboa Ginásio Auditório
Rua dos Anjos 63 1150-035 LISBOA
14.30 LEARNING FROM LISBON
14.30 Refugees in Lisbon by Miguel Silva Graça
15.00 Community and bottom-up practices by Nuno Serra from Santa Casa da Misericórdia de Lisboa
15.30 Cozinha Comunitária das Terras da Costa, Almada by Colectivo Warehouse
16.00 The Intendente/Mouraria Urban Renovation by Marta Silva from Largo Residências
17.00 WORKSHOP around key topics of the European Urban Agenda: access to space, property management, shared administration, new economic models of community-led development, property ownership
19.00 LEARNING FROM THE RE:KREATORS
Stipo (Rotterdam) by Hans Karssenberg
Pakhuis de Zwijger (Amsterdam) by Charlot Schans
Mörchenpark e.V (Berlin) by Christian Grauvogel
Genossenschaft für urbane Kreativität eG (Berlin) by Ania Pilipenko
Shuffle (London) by Lizzy Daish
Darwin Ecosystem (Bordeaux) by Sylvain Barfety
Institute for Public Space Research (Warsaw) by Marta Zakowska
Make a Point (Bucharest) by Alma Cazacu & Madi Rosca
KÉK (Budapest) by Levente Polyak
_______
21.00 DINNER at Cozinha Popular da Mouraria
(It's 15€ and you have to be registered sending an email to: producao@largoresidencias.com)
_______​
Please share the event here
Plus info: producao@largoresidencias.com