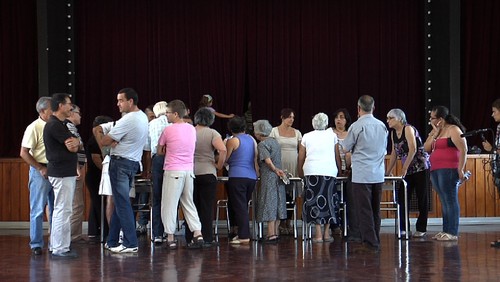 Imagens do projecto de documentário PRODAC de Joana Cunha Ferreira e João Rosas, produzido pela Midas Filmes
(...) Ateliermob, Working with the 99 per cent a participatory project in Lisbon Portugal based on a different approach which redefines the architect's role. Ateliermob have envisaged for themselves a central function stemming from the attempt to answer a basic question: how can architects attempt to solve the many problems they see around them working for clients that  do not have the money to pay for their services. The answer they found is to place themselves at the centre of a process in which the architect becomes mediator , fundraiser,  creating an essential link between the public administration, the financial system and the community enabling the local residents without property or rights to achieve  social status and dignity. (...)
[PT]
Foram anunciados em Veneza os três premiados do Prémio Future Cities, Planning for the 90 per cent – ateliermob (Portugal), Secretariado de Habitação do Município de S. Paulo (Brasil) e Interazioni Urbane (Itália) – no decorrer da inauguração da exposição sobre o prémio que contou com mais de 100 participações provenientes de diversos países.
O ateliermob apresenta o trabalho "Working with the 99%", no qual se defende um reposicionamento da prática de arquitectura como resposta urgente ao discurso que transmite a ideia de um país adiado e sem futuro. Como primeiro caso de estudo é apresentado o trabalho que o ateliermob se encontra a desenvolver no Bairro da Prodac em Lisboa, trabalhando com a comunidade local e a autarquia, para legalizar e detectar situações de risco neste bairro, auto-construido pelos moradores há mais de quarenta anos. Este processo está a ser desenvolvido com as respectivas associações de moradores e, para a zona norte, conta com o apoio do BIP-ZIP – Bairros e Zonas de Intervenção prioritária de Lisboa.
A exposição, a decorrer até ao próximo dia 1 de Setembro em Veneza (Magazzino Gardini, Punta della Dogana), é um dos eventos paralelos da XIII Bienal Internacional de Arquitectura.
[ENG]
It was announced in Venice the three winners of the "Future Cities, Planning for the 90 per cent" award – ateliermob (Portugal), Municipal Housing Secretariat of São Paulo (Brazil) and Interazioni Urbane (Italy) – during the opening of the exhibition featuring 10 selected projects, in more than 100 participants from several countries.
Ateliermob presents "Working with the 99%" which stresses architecture to work with local communities, to fight back the speeches on a postponed and futureless country. As the first case study, ateliermob presents its current work in PRODAC Neighbourhood. With local community and public authorities, it is being developed one process of massive legalizations and risks detections, at this self-built neighbourhood.
The exhibition, running until the 1st of September in Venice (Magazzino Gardini, Punta della Dogana) is one of the parallel events of the 13th International Architecture Biennale.
::::::::::